FlexPost®
Buy Now
Download Specs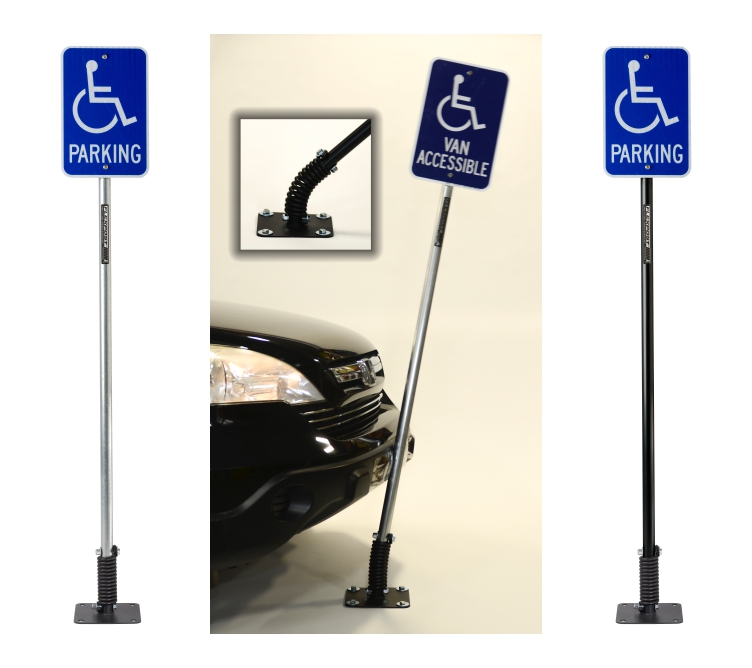 No More Bent Poles!
The galvanized steel post and durable spring allows for super flexibility when hit from any angle.
Eliminates replacement costs - no more bent bollards
Flexes when hit from any angle
Withstands high winds
Handles most steel regulatory signs
Easy to install, no special tools required
Specifications
9" x 9" x 1/8" steel base plate
6 foot or 8 foot steel 1-5/8" round galvanized post (silver)
Overall height - 78" or 102"
E-Coat Corrosion Resistant Barrier with optional Durable Black Powder Coat Finish
Includes FlexPost mounting hardware for asphalt, concrete or adhesive
Includes sign mounting hardware (sign not provided)
FlexPost-Rigid
FlexPost-Rigid uses a rigid adapter in place of the FlexPost spring. The adapter has a rigid sleeve with thin diagonal cuts which bend at a pivot point. The sleeve can be customized to be more or less firm. When the post is hit, it is easily pulled 2back to the upright position.
FlexPost-Rigid can also be transformed to the original FlexPost or FlexBollard by swapping the rigid adapter for the spring!
FlexPost-XL
Accommodates large or multiple regulatory signs
Minimizes damage to vehicle and parking surfaces.
Sturdy design allows for high wind resistance
Sustains high-speed impacts with 360 degree range of motion
Specifications
Overall height - 6', 8', or 9'
Rugged cast galvanized coated steel base with hidden 5/16" thick steel spring
Includes 4" steel zinc coated anchors
Sign brackets included
Asphalt, concrete or Adhesive Mount
Detent Bracket Kit
Keeps XL post rigid until struck
Galvanized steel
Includes 4 brackets: 3.25"x1"x3/16"
---
Showing 1 to 3 of 3 (1 Pages)
Get A Quote
Please fill out the form below, and a member of our team will provide you with a personalized quote.
*Required